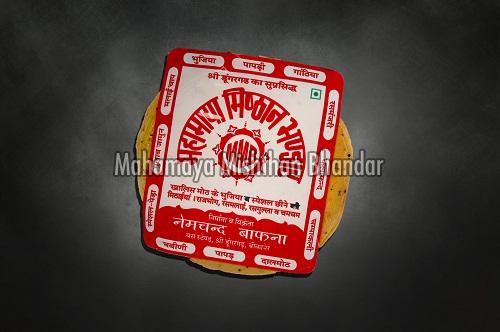 Papads are the thin Indian wafers (crackers or flatbread) that are made from dried lentils and are eaten fried or roasted. These are a part and parcel of every Indian meal. In earlier days, every Indian home had a charpoy on the roof that was full of papads drying in sun. But, nowadays, the art of making papad at home seems to be vanishing and we have switched conveniently to the store-bought stuff. Still, this crispy treat remains to be one of the most delightful and loved accompaniments. Papads can transform a boring meal or can also be served as a quick snack.
Each region has its own specialty - south Indian rice papads to those made from besan (gram flour) that are popular in Rajasthan or the most famous Punjabi urad dal papads. People are now experimenting a lot with ingredients of papad. Papads are generally prepared according to different tastes utilizing natural flavors to suit individual requirements. The composition of the papad in India varies by the addition of varieties of ingredients such as cereal flour, pulse flour, spice mixes, soya flour, chemical mixes, and different vegetable juices to improve both organoleptic and nutritional characteristics. One can get papad of several flavors of your choice such as urad dal, moong dal, Punjabi masala, asafoetida, black pepper, red chili, green chili, cumin, garlic, ginger, cardamom, cloves, and cinnamon, etc.
From a wide range of papad available in the market, spicy papads are the most preferred ones. These dried lentil chips usually studded with Indian spices like chili, cumin, garlic, black paper, etc.
Culinary Uses Of Spicy Papad:
• Spicy papad is a great accompaniment with mocktails and drinks.
• They are mainly served as an accompaniment with any meal in India.
• Spicy papads are very delicious and can be eaten as a starter or snack dish.
• Roasted, Fried, open-flame papad and oven-made papad are some of the best varieties of spicy papad. Spicy Papad is even used for making several Gujarati dishes.
• A famous Rajasthani delicacy is papad ki sabji or papad curry, which is made from the papad, especially spicy papad.
• Spicy papads can also be enjoyed with a variety of chutneys, pickles, and sauces.
• Spicy Papads have been used to serve with dal and rice, as it enhances the taste and flavor of the meal.
• Spicy Papads can be served with soup or with the main meal.
• Papads are often crushed and sprinkled on the rice.
• A traditional Indian thali, marriage buffets, platter, parties, etc. always includes spicy papad in their menu.
• You can even crush the raw spicy papads for coating the tikkas and kababs.
Facts Related To Papad Or Spicy Papad:
• All types of papads including spicy papads are a good appetizer and are the source for digestive.
• Grilled or roasted spicy papads help to absorb the fatty material from the mouth and throat.
• Papads should be eaten in moderate proportion otherwise it can become the reason for acidity.
• Spicy papads are very high in sodium, hence not good for hypertensive people.
• Spicy papads are made of lentils, hence they are rich in protein and dietary fiber and free from gluten.
Most of us think that eating spicy papad can result in different health issues whereas the fact is that eating the right choice of spicy papad does no harm to our health. We can choose quality papad offered by Spicy Papad Supplier in Rajasthan. We can also pick our right choice from the wide options provided by wholesalers, dealing with wholesale spicy papad in Rajasthan or any other reputed spicy papad exporter in India.
So what are you waiting for? Grab a packet of your favorite spicy papad and hurry up to avail the latest offers provided by the spicy papad suppliers and exporters in Rajasthan.