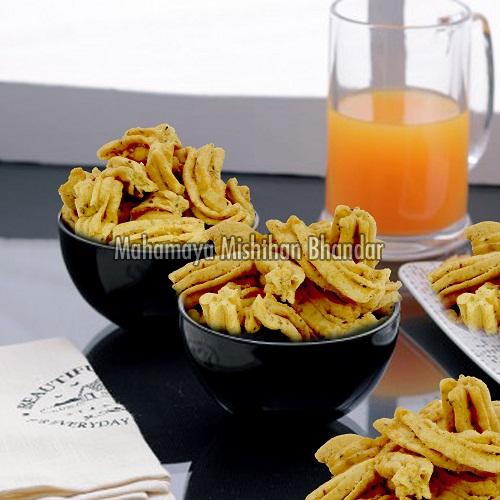 Whether you are having a get-together with your friends, relatives or you are just chilling at your home, the evening teacup without a few packets of besan gathiya seems so incomplete. While it is perfect to have on a cold, rainy day, with a cup of tea, this versatile snack is also light enough to enjoy on a hot summer's day with a glass of cold drink or juice, or to take along to office or school in a snack box! Besan gathiya can be enjoyed plain or you can garnish it with various dressings for an added taste. This snack is so delicious and considered not just as a food, it is something to crave for. It is also a perfect snack to have while watching your favorite TV show or watching a movie. Besan gathiya can be salty or spicy or sour or maybe a mixture of different tastes, adding up together to come out as even better.
When you are craving for eating something tasty but at the same time do not want to cook and feeling lazy, you can have besan gathiya in that case. Most of us think that eating besan gathiya can result in different health issues whereas the fact is that eating the right choice of besan gathiya does no harm to our health. One can find many top besan gathiya suppliers in India, offering the best quality besan gathiya in the market. Types of the besan gathiya available with besan gathiya suppliers in India are- Butter Bhavnagari Gathiya, Lakadiya Gathiya, Special Bhavnagari Gathiya, Garlic Gathiya, Methi Gathiya, Bikaneri pudina Gathiya and many more. We can choose quality besan gathiya offered by the besan gathiya supplier in Bikaner. We can pick our right choice from the wide options provided by wholesale besan gathiya suppliers in Rajasthan. Varying flavors of Bikaneri basan gathiya can always be used to treat us for no reason.
Why Bikaneri basan gathiya is so popular?
Besan gathiya can be good diet snack with low fat for the health-conscious people. This snack is the crispy delicacy that is needed to lift our boring mood. This snack is not only eaten as a snack but also used in meals for adding a crisp to the taste and presentation of the food. There are so many flavors of besan Gathiya in the market that we get really confused about whether to go for the traditional and tempting flavor or try something new. The besan gathiya are the perfect solution when you want to give your taste buds a crusty and delightful experience. Bikaneri basan gathiya brings the authentic taste of Rajasthan when you have a spoonful of it. The besan gathiya exporters in Bikaner provide you with so many options, that you do not get at your local store.
The besan gathiya manufacturers in Bikaner offer a hygienically processed range of product that is rich in taste and has a long shelf life for the clients. The offered range of besan gathiya is the best snack and has mouthwatering flavors. They offer snacks in air-tight packaging. Their complete product array is prepared at their sanitized processing unit using well-tested ingredients under the direction of the food experts. The offered gathiya is available in various hygienic packaging options and can be purchased at pocket-friendly rates.
So what are you waiting for? Grab a packet of your favorite besan gathiya and hurry up to avail the latest offers provided by the besan gathiya suppliers and exporters in Bikaner.
This entry was posted on October, 18, 2019 at 17 : 43 pm and is filed under Namkeen. You can follow any responses to this entry through the RSS 2.0 feed. You can leave a response from your own site.